Summer Online Session
July 6 – August 28, 2020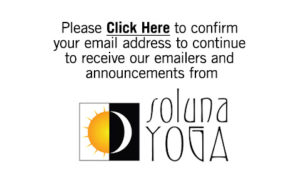 Update - Online Classes Available
Starting on Monday, March 30, we will begin our regularly scheduled classes online. There will be a few minor changes, so please be sure to look over the schedule. We know that so many of you go away during the second session and usually don't register during this time. However, due to the COVID-19 virus, many of you were unable to do that. We have decided to allow those of you who would like to attend the rest of the session to register for the remaining six weeks. 

Here

 is the registration payment for a six-week session. Those of you who would like to do a drop-in can find the online drop-in fee 

here.

  We ask at this time that you pay by credit card as we will not be at the studio to take cash or checks.  
Our format remains the same. If you are a registered student, the teacher already has your name on his/her attendance sheets. If you are a new registrant, the teacher will have your name as soon as you pay. If you are a drop-in, please tell the teacher you are dropping in and that you paid online, Lisa will have the credit card receipt. Make-ups are welcome to join any class that works for your ability level and with your schedule. Make sure you tell the teacher upon entering the Zoom room if you are dropping in or making up.  
Here

is the schedule for the remainder of the session. Here is the link to the Zoom room: 

https://zoom.us/j/5591732357

. You can copy and paste this link and keep it somewhere where you can easily access it (for example, bookmark it or put it in notes).
For those of you who have not participated in conferences or online classes, there are some Zoom room etiquette and procedures that should be followed:
Show up 10 minutes early (no sooner than 10 minutes if there is a class before yours) to work out any kinks you may have and so the teacher can help.

Let the teacher know who you are as your sign in name doesn't always show your real name. 

Remember, you are always visible unless you don't turn on your video. Teachers have found it very helpful to be able to see students to tell if their cues are being received and to react if the screen freezes or something goes wrong. If possible, please keep your video on.

Always stay muted unless you are speaking as we can hear background noises.

If your mic is unmuted before class, please mute it when the class begins.

Make sure you have any props, water bottle, and mat for your practice.  
All of us at Soluna are looking forward to being back in community and to be of service to you.
With gratitude, 
Lisa and Soluna Teachers